ESG Compliance: HVAC/R management + refrigerants tracking
ESG compliance is crucial to business and supply chains these days (and to investors). It's not only simply a corporate sustainability reporting directive anymore; it's a risk management and corporate transparency strategy — not to mention, it's good for society overall.
An overlooked aspect of ESG compliance around Scope 1 emissions is the effective management of HVAC/R, or HVAC/refrigeration.
The easiest way to think about ESG compliance in the HVAC/R sense is via K.I.S.S., or Keep It Simple, Smarty. There's a complicated regulatory environment and numerous regulatory bodies around anything to do with ESG compliance, and state vs. federal regulations can differ on HVAC/R and refrigerant management.
Since the regulations change frequently, ESG compliance in this context is also a way for companies and contractors to manage risk. You obviously want to hit core goals around ESG compliance, i.e.:
Ensure compliance (basic)

Diligence processes

Reporting requirements

ESG regulations

Best practices of the Sustainability Accounting Standards Board (more on that later on)

Etc.
But above the basic ESG compliance goals, it really is a risk management strategy for your brand too — especially as public perception of companies shifts and people want to see you doing well (for the world) as you do well (for your company's management).
ESG Compliance and HVAC/R: More things to understand
ESG compliance saves you money
HVAC/R regulatory compliance matters for the business bottom line. Effective HVAC/R compliance reporting enables your firm to save vast sums of money with more informed and efficient energy management and service (alongside these best practices) while avoiding lawsuits and fines.

Compliance also makes a difference
Not only is a full accounting of all energy use, emissions, and refrigerant leaks for your business required for HVAC/R regulatory reasons, but it makes a real difference for environmental sustainability and corporate sustainability across business or supply chains. Leaked refrigerants, for example, are proven to release more harmful materials into the atmosphere than all commercial airliners combined. They're a crucial part of a company's environmental footprint.

The core issue with ESG compliance right now is that we need (a) better data and (b) a modern modern solution
The reality on the ground is a 25% average annual leak rate for harmful refrigerants across all industries — well above current regulatory goals for companies involved. Coupled with a patchwork of HVAC/R regulations and an urgent push for tricky refrigerant phase downs (the law calls for an 85% reduction by 2036), the truth is that the traditional invoice is not enough.
It seems as if digital needs to lead the way for ESG compliance
Modern HVAC/R and refrigerant management software, including regulatory compliance software and environmental compliance calendar software, is an essential tool in achieving compliance and mitigating risks, especially when many management processes (such as SCAQMD Rule 1415 registration) have moved online.

How you can operationalize HVAC/R compliance and your compliance team
HVAC/R compliance success starts on the ground level of your business. You cannot remain successfully compliant without buy-in from and engagement no matter the person's job, from the C-suite to contractors. A commitment to legal and regulatory compliance — and a culture of willingness to learn about initiatives — are critical to operationalizing your HVAC/R compliance.

What about ESG compliance and HFC refrigerants?


Over the next 15 years, a central focus of HVAC/R compliance management for business will be the draw-down (sometimes written as drawdown) of HFC refrigerants. A major shift in HFC refrigerant policy in our field occurred on September 23, 2021, when EPA Administrator Regan signed the final rule "Phasedown of Hydrofluorocarbons: Establishing the Allowance Allocation and Trading Program under the AIM Act."
We've actually created a good asset here on ensuring ESG compliance, which is downloadable here.

This rule established a comprehensive program to cap and phase down HFC production and consumption by 85% by 2036. Here's the breakdown of the refrigerant phase out, which kicked off in 2021. Visually, it looks like this: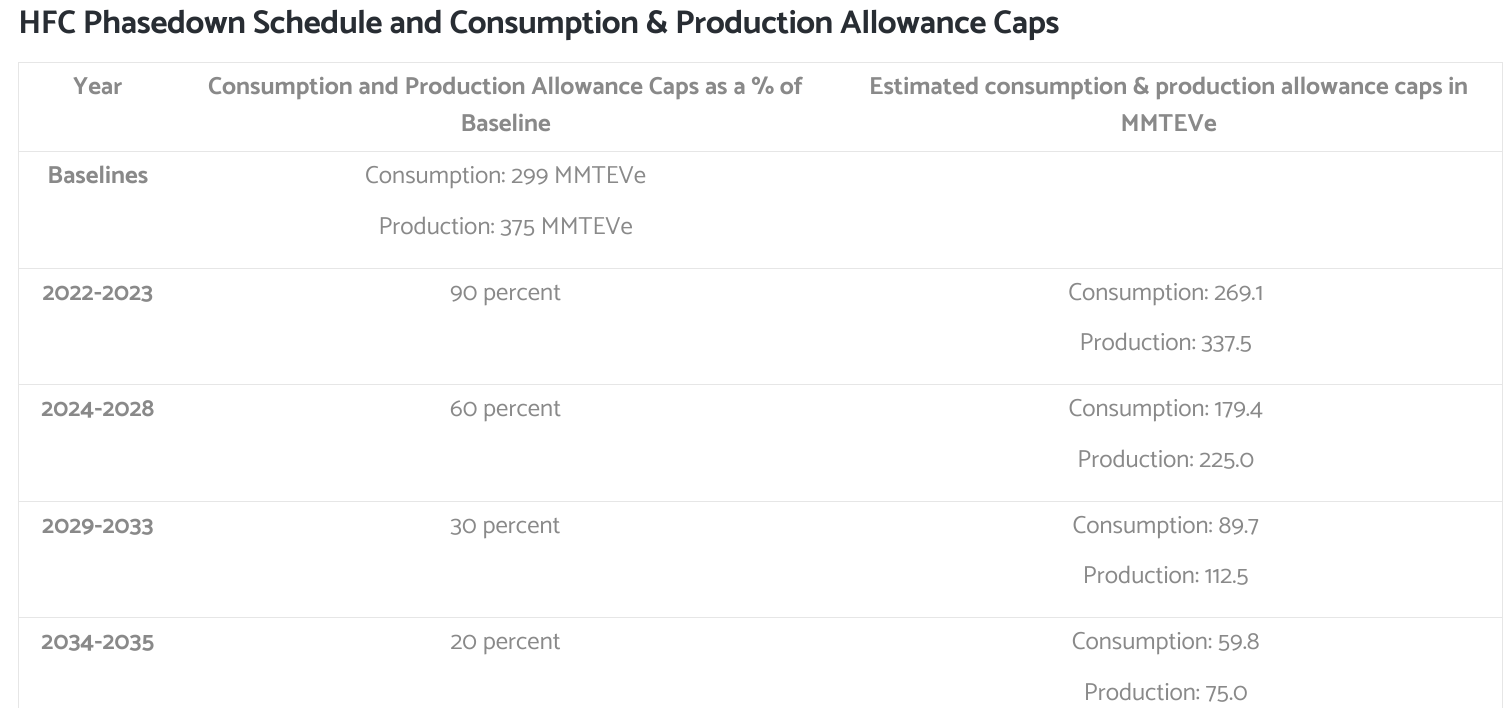 The AIM Act and its impact on reporting obligations and ESG practices
The AIM Act itself sets out to grant the EPA the authority to control and manage HFC refrigerant through three separate regulatory programs:
Phase down the production and consumption of HFCs;

Manage HFCs; and

Facilitate the transition to next-generation technologies.
These programs would seek to reduce reliance on many popular refrigerants, such as R-134a, R-125, R-32, and R-143a. You can read a more extensive breakdown of the AIM Act and affected refrigerants here.

SNAP Rules and ESG compliance
SNAP Rules 20 & 21 enacted bans on certain HFC refrigerants in end-uses from air-conditioning to refrigeration. Both new and retrofit equipment was affected. The bans were partially cavated in the Mexichem Fluor, Inc., v. EPA decision in 2017, and a further 2018 guidance from the EPA was first seen to vacate the HFC bans entirely. After a counter-suit, an April 2020 court decision found that the EPA guidance went too far. Read more about the SNAP Rule 20 and 21 lawsuit and implications here.

Refrigerant Recovery, Recycle, and Reuse Program
A new Refrigerant Recovery, Recycle, and Reuse (R4) program regulation came into effect in 2021, as an amendment to the HFC regulation. Reclamation had not been addressed in the rulings the previous year, but CARB's new program proposes to establish a requirement for minimum use of reclaimed refgrigerant: 10% of the amount of R-4210A that enters California in new equipment from 2023 to 2024. At the very least, this will mean major changes to refrigeration equipment in California as early as 2023.

Assset-centric refrigerant management, ESG factors, and ESG compliance
Comprehensive, accurate HVAC/R compliance practices are only possible with a precise accounting of all assets and buy-in from all involved parties in a business. (That precise accounting is also what those involved with ESG investments will want to see.) With the next refrigerant transition firmly underway, this is a critical time to re-examine your approach to asset management. How you manage assets and manage risks — that intersection — is massive to your supply chains and your path to ensuring ESG compliance.
The most common asset management challenges faced by a business are related to compliance, maintenance, and asset value & scope.

ESG compliance actually begins with keeping the right people engaged
The best way to accommodate this approach is with a logic-driven, structured HVAC/R workflow system for your company, like Trakref, that tracks and controls how refrigerants are added, extracted, and transferred.
Cloud-based HVAC/R industry solutions like Trakref's refrigerant management software make it easier than ever to help stakeholders understand your company.
Read more about our EPA HFC refrigerant solutions here.

Energy management
The most impactful measure for improving energy management and compliance performance in our industry is to benchmark. This means to measure and compare your expenditures and efficiency to similar buildings, historical data on your usage, or a target performance level (create such performance indicators as you need). You may even use modeled simulations of a reference building built out to a specific code or other standards.

How you know you're starting to master ESG regulations
Excellent performance can save energy (and money) as well as earn you important industry recognitions. GreenChill certification, for example, is a prestigious high watermark for organizations in the supermarket industry, achieved via strong energy management performance. Individual pieces of equipment and other solutions that support energy management can also qualify for and achieve important certifications, such as from ENERGY STAR.
Trakref has become an ENERGY STAR Partner for Energy Management due in part to the growing solutions our software provides for benchmarking. Thorough benchmarking with software like Trakref can help you assess the efficiency of your building and apply for an ENERGY STAR Score (on a scale of 1-100 vs. a national median of 50).

Compliance and reporting requirements: The best approaches for risk management


In July of 2020, the Department of Justice (DOJ) released "The Evaluation of Corporate Compliance Programs," a report that Trakref uses to build accurate, compliant reporting practices. It's common for compliance programs to evoke resentment from employees. Improving compliance (and therefore, reporting accuracy), requires a company to address 3 goals:
Preventing compliance misconduct

Detecting compliance misconduct (and holding individuals accountable)

Aligning corporate policies with rules and laws
It's critical that everyone understands their compliance obligations and applies them daily.

Improving HVAC/R Reporting
HVAC/R reporting metrics can be complex and multifaceted, with many aspects to build on. Due to issues including poor compliance practices and a poor general understanding of what's required in the first place, hundreds of millions of pounds of refrigerant go unreported each year.
Using paper — or even Excel spreadsheets —  for tracking and HVAC/R reports merely serves to complicate matters. The old way of doing things leads to duplicated data entry, gaps in communication, and HVAC/R data sources that are either never recorded or simply fall through the cracks. It's also slow, deeply prone to mistakes, a poor example of due diligence processes, and the low-quality data collection that emerges from it messes up your supply chains and other corporate sustainability reporting directive processes.
In short, you lose.
But there's a better approach. And while software cannot save the world, here it can help a little bit.

Understanding the reporting protocols
There are many reporting protocols to use, but regardless of the precise framework, all companies are expected to meet the expectation of recording all usage and avoid common gaps, such as:
Including Vehicles

Equipment of All Sizes

New & Old Equipment

Estimates Based on Evidence

Fire Suppression Systems
You are fully responsible for reporting and for any mistakes…so do what's necessary to prevent them.

How does Trakref help you track refrigerants and ensure ESG compliance?


Facility managers and contractors simply don't have the time to learn complicated technologies and manually sort through HVAC/R regulations by the hundreds. The industry still runs heavily on paper and Excel — because it has never had to meet any other standard. While old ways may provide comfort, you should be moving toward more accurate ways to track data, especially as ESG reporting becomes mainstream.
At Trakref, we understand the technology a customer needs. Running dynamic commercial facilities is part of our DNA. What's needed to improve management of HVAC/R and reporting is compliance technology including these features:
Simple to use

Built to streamline the workflow

Appealing to technicians and executives alike

Comprehensive in scope

Effective for compliance, tracking, and reporting

A real solution to the challenges you face
Trakref's Solutions
As a software corporation and environmental software provider, Trakref's technology products save time and eliminate guesswork for everyone, no matter their job. Our patented cloud-based refrigerant management system consists of three individual solutions that all work together.
Trakref V3: An advanced refrigerant tracking software that makes entering HVAC/R service tickets quick and simple to achieve compliance.
Trakref Pro: A digital refrigerant journal that helps the entire team keep better records.
SF6 Compliance With Trakref: Suited for multi-location, multi-vendor HVAC/R and refrigerant compliance management for all assets. Use it to meet standards including EPA 608, CARB RMP, SCAQMD1415, ANSI/ASHRAE Standards, ISO 14001, and more.
These dynamic technology resources simplify refrigerant tracking operations (and refrigerant software) so that you can get the most revenue out of each pound of refrigerant moving through your operation while minimizing risks. These are the technologies you need to take the next step in reducing your company's carbon footprint and keep up with aggressive refrigerant phase downs while achieving ambitious compliance and financial goals.
We are refrigerant geeks with proven techniques to manage leaks in our HVAC/R and refrigerant management software.